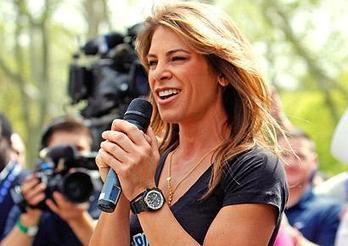 7 Celebrities Who Manage Life with Chronic Pain
Jillian Michaels
Health problem: Polycystic Ovary Syndrome and Endometriosis
Former trainer for The Biggest Loser and current co-host of The Doctors, Jillian Michaels kept her diagnosis of endometriosis and Polycystic Ovary Syndrome (PCOS) to herself for years, worried that it would damage her "beacon of health" reputation. The conditions can cause pain—in endometriosis, cells from the uterine lining can grow on other organs and tissue in the body; PCOS indicates a hormonal imbalance that leads to irregular menstrual cycles and small cysts in the ovaries. Michaels came forward about the conditions after a reporter's questions about her plans to adopt prompted her to say she wouldn't put herself through the physical challenge of pregnancy. She later clarified that since her condition can cause infertility and pregnancy may require her to have surgical procedures, she felt more comfortable adopting. She has said that while she used to suffer from debilitating abdominal pain, she found that eating a diet that includes, among other things, organic foods and nonprocessed soy and exercising regularly have helped alleviate her symptoms.
Read more on www.prevention.com
Jacqueline Goguen's insight:
We are not alone…!
No, I don't mean that aliens are among us….well, they may be, but that's not what this article is about. Millions of people live with chronic pain in the so many varied forms it can present. Here are a few faces you recognize and that might bring some inspiration into your day.
Are there other celebrities or public figures in particular that have inspired you? Or maybe it's been a friend or loved one who has been your inspiration.
Blessings,
Jacqui
Related articles